Rockefeller Center Christmas Tree Lighting
The Christmas Season is here, and all around the United States people are ready to celebrate the holiday season. During the holiday season, many joyful memories and traditions are created. The lighting of the Rockefeller Christmas Tree is a Christmas tradition here in the United States.  Every year in New York City at Rockefeller Center, a massive Christmas tree is lit to celebrate the holiday season.  This lit Christmas tree signals the start of the holiday season in the United States. This holiday tradition started in December 1931 when workers at Rockefeller Center pulled money together to buy a 20ft balsam fir tree. Workers decorated the 20ft tree with homemade garlands, lights, and ribbons. Families radiated with joy at this celebration.  Two years later in 1933, the Rockefeller Center decided to make the Christmas tree an annual tradition. That same year, the first tree lighting ceremony occurred creating a tradition that would last. Each year a huge decorated Christmas tree would be lit in Rockefeller Center during the holidays.
Since 1933, there has been a Rockefeller Center Christmas Tree lighting ceremony where people all around the country unite to celebrate the holiday season. Singers, dancers, and celebrities perform at the ceremony causing excitement and joy around the world. This year's ceremony occurred on Wednesday, December 1, 2021.  The 2021 Rockefeller Christmas tree is a 79ft tall, 46 ft wide, 12 ton Norway Spruce Tree. This tree is approximately 85 years old and is from Elkton, Maryland. About 50,000 multi-colored led lights cover this year's massive tree. Every Christmas season, a huge search is conducted around the country to choose a tree from the tree lighting. Having your tree featured is a huge achievement for farmers. At this year's tree lighting many famous celebrities performed such as Alessia Cara, Carrie Underwood and Pentatonix. The Radio City Rockettes also performed a magnificent and entertaining Christmas dance routine.  Even though there were regulations due to covid, the ceremony was still a huge success. You can stop by and view the Rockefeller Tree in New York city from 6am – 12am. Go visit the beautiful Rockefeller Tree in New York City for some Christmas joy!
Here is the link to Rockefeller Christmas Tree site for more information: https://www.rockefellercenter.com/holidays/rockefeller-center-christmas-tree-lighting/#viewing-details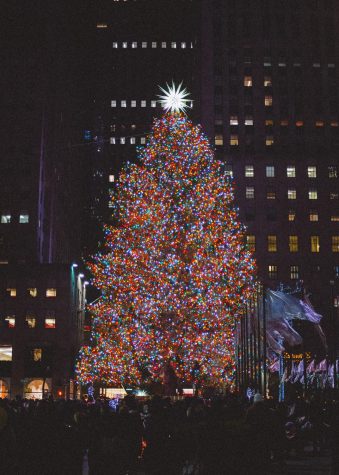 Works Cited
Aniftos, Rania. "How to Watch the Rockefeller Center Christmas Tree Lighting Ceremony 2021." Billboard, 1 Dec. 2021, https://www.billboard.com/culture/lifestyle/rockefeller-christmas-tree-lighting-ceremony-watch-stream-online-1235004765/.   Accessed 4 December 2021
"🎄 Rockefeller Center Christmas Tree Lighting: NYC Winter Events." Rockefeller Center, https://www.rockefellercenter.com/holidays/rockefeller-center-christmas-tree-lighting/#tree-history.    Accessed 4 December 2021